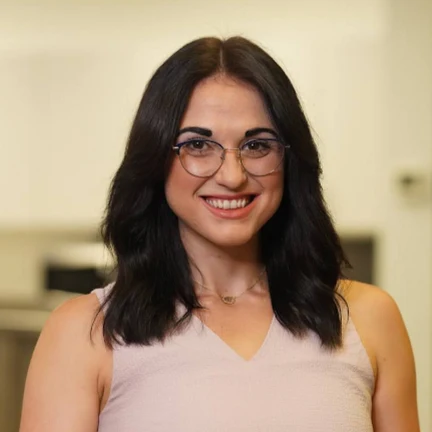 Alyssa Kohne, LMSW
Therapist in St. Louis, MO
Virtual Only
Meet Alyssa Kohne
If you're looking for a therapist who is willing to be just as vulnerable and open as you are, I'm your gal. I'm the therapist that's willing to laugh, and sometimes even shed a tear with you. My goal as a therapist is not to lead the way, but to give you a map that will help you along your journey. As a clinical social worker, my framework and ethical values differ from other providers. My framework allows me to see strength in everyone, and offer them unconditional support on their path. I consider it an honor to walk this path with you. While I might not have all the answers, we can find the best answers together. I can't wait to meet you. 
My Approach to Therapy  
Considering therapy is a big deal. I know that it can feel scary and overwhelming to talk to a stranger about things that are hard. Whether it be past experiences, decisions made or in the process of being made, trying to find a new outlook, or just trying to find yourself, it can feel like you're walking up a mountain in flip-flops. Well, I'm here to give you some sturdy hiking shoes. Choosing a therapist that is a good fit for you might be a process. At Open Arms Wellness, you have a lot of great options to pick from. I invite you to find the therapist that you feel will welcome you with Open Arms. 
Education
I received my bachelor's in Social Work (BSW) from the University of Missouri in Columbia. Shortly after, I started my graduate degree in Advanced Standing Clinical Social Work at Mizzou. I had a very unique experience during my graduate program, as I started my degree at the beginning of 2020. While I was not a fan of online classes, my experience taught me one thing: you have to be willing to be flexible and adaptable. 
Research
During my graduate studies, I was a research assistant for Dr. Aaron Thompson at the School of Social Work. The purpose of the research was to identify the most effective interventions for children with maladaptive and disruptive behaviors. This study concluded that implementing interventions in which children self-reported their behavior appeared to have a positive impact on their behavior. Most often, children's behavior improved as well as their relationships with peers and teachers. 
Internship
During my undergraduate degree, I had three wonderful internship experiences. I interned at the Missouri Coalition Against Domestic and Sexual Violence where I developed a state-wide communication plan for domestic violence shelters and assisted in the reauthorization of the Prison Rape Elimination Act. From there, I had an internship with Representative Martha Stephens from Columbia, MO tracking legislation surrounding public health and women's reproductive rights bills. A few of my favorites included bills to reform sexual assault forensic exams and SNAP. Afterward, I had an internship at True North Intimate Partner Violence working as a legal advocate. In this role, I assisted survivors of domestic and sexual violence through legal proceedings related to Orders of Protection.
During my graduate studies, I had an internship at the Truman VA in Columbia, MO where I assisted in conducting the Move! Program. This program is designed for veterans that are needing assistance in making sustainable changes to their life in order to promote their overall health. In addition, I practiced as a student clinician at the Integrated Behavioral Health Center in Columbia, MO. In this role, I provided free therapy to residents in Columbia that did not have adequate mental health resources. 
Work Experience
I have worked in an intimate partner shelter providing crisis intervention and services to individuals experiencing intimate partner violence. I have also provided case management to pregnant women in the St. Louis area. In addition, I am currently a group therapist for an agency providing services to perpetrators and survivors of domestic violence. My role is to provide education and rehabilitation to individuals impacted by domestic violence. I am also providing parent-child interaction therapy (PCIT) in another role I am currently filling. In this role, I work with parents and their children to alleviate problem behaviors and strengthen their relationships.