Group therapy for teens
In addition to offering individual sessions for teens, our therapists also offer group therapy for teens. In group therapy, teens have the opportunity to talk to other same-aged peers about experiences they are going through. For some teens, this includes problems at school, home, or friendships, as well as how to navigate mental health situations that are likely new for them. Group therapy for teens is a place for teens to learn from each other and build a supportive environment outside of their everyday life.
Group therapy is a collaborative tool used to help individuals grow in a safe and confidential environment. During group therapy individuals meet through Zoom or face to face to talk about their concerns as they pertain to the group topic. The magic of a group happens when group members can share their feedback, empathy, support, and encouragement with each other. 
What is group therapy like?
Meeting with a group of people that you have never met to talk about emotional concerns can be scary. It can be hard to be vulnerable and share information about yourself. It takes time to build trust in the group and share your personal information. The counselor facilitator as well as members help to set the tone of the group so that members feel safe and can trust each other. You get to control when and how much you share with the group. A good way to start in group therapy is to tell the group why you have come and what you are looking to change.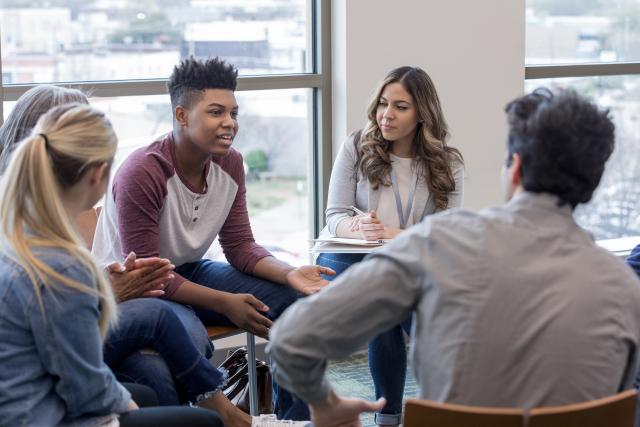 An analysis of 56 studies over a 20-year period, reported in the Journal of Clinical Child Psychology, found that group therapy was more effective with children and teenagers than other forms of therapy. The average child or adolescent treated by group treatment was better off than 73 percent of those not. Whether it is stress, anxiety, depression or everyday concerns we are here to help.
Begin Teen Therapy in St. Louis, MO
Our teen therapists understand that you care about your teen and want the best for them. Teen therapy can help get to that point. Our St. Louis based counseling practice has many teen therapists with openings that are happy to work with your teen. We're able to see them in person or through online therapy in Missouri. When you're ready to begin teen therapy in St. Louis, MO, follow these steps:
Schedule an appointment with us.
Get to know our team of excellent teen therapists.
Help your teen start to feel like themselves again. 
Therapists with this Specialty